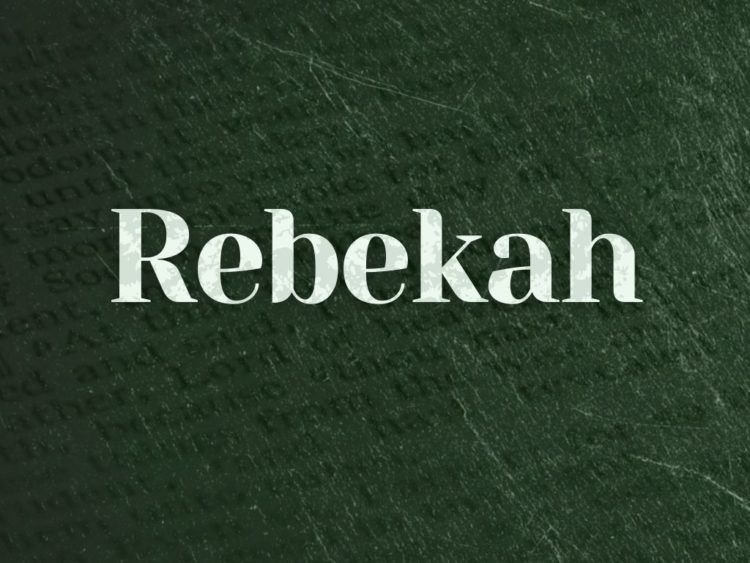 Pronunciation: reh-BEK-uh
Origin of name: Hebrew
Meaning of name: to tie or secure; literally "a rope with a noose"
The Story Behind This Baby Name
The Rebekah of the Bible was a singular woman. She was chosen with God's guidance to be the wife of Isaac, the miracle son of Abraham's old age and became the mother of twin boys, Jacob and Esau.
When Abraham's servant journeyed to find a wife for Isaac, he was burdened with a great responsibility. He was supposed to find a wife who would help fulfill God's promise to his master to have descendants that would outnumber the stars. Knowing that there was no way he could find such a gem in his own ability, he prayed for a sign. He asked for the most far out thing he could think of at the time: he would ask for a drink of water, and the woman who volunteered without prompting to water his ten camels also would be the one. It would take a remarkably generous girl to freely offer to haul water from a well for ten thirsty camels.
Rebekah was the one. A virgin from among Abraham's relatives, generous of heart, she bravely left her family and went with this stranger to marry a young man she'd never met. Isaac took her as his wife and loved her very much.
She was such a beautiful woman that when she and Isaac lived in the land of the Philistines, Isaac told everyone that she was his sister. He was afraid that if they knew he was her husband, then he might be murdered so that someone else could take Rebekah for their own. But even when he was supposed to be keeping a secret, Isaac couldn't resist public displays of affection with his beautiful wife, and eventually the truth came out.
Although one of Rebekah's flaws was her show of favoritism towards Jacob, even in this God worked His way to bless the man He had chosen to father the twelve tribes of Israel. Her wise advice kept the two brothers apart long enough for Esau's anger to cool, and her guidance pointed Jacob towards a Godly wife from his family's homeland.
Scriptures for the Bible Stories of the Girl Name Rebekah
Variations of the girl name Rebekah
Female: Rebecca, Becky, Becka
We hope this baby name information is useful to you. If you like this resource, tell your friends about the Christian Meaning of Names website, or link to us at www.ChristianMeaningOfNames.com!